This is my grandmother's clock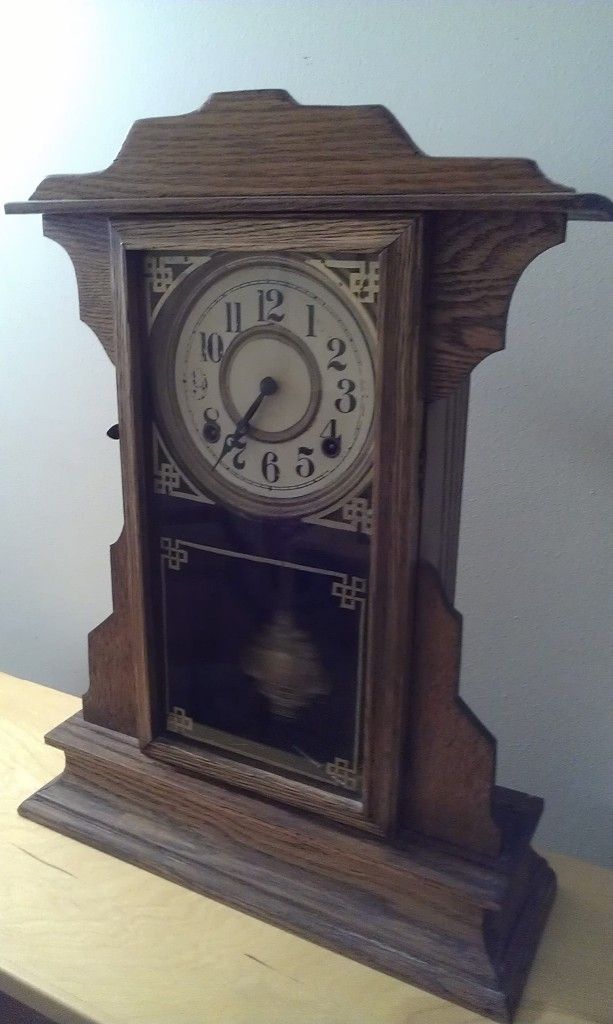 It doesn't work, but I remember it in my grandmother's house and then in my house as a child. Women in my family are strong. My grandmother raised five girls after my grandfather died - the oldest girl was about 14. My mom has been gone for a couple of years now, but another one of the surviving sisters, my Aunt Hope died last week. That leaves only two sisters left. This is a picture of four of the sisters in about 1934, a couple of years before my grandfather died. My Aunt Betty isn't in the picture because she wasn't born yet. My mom was the smallest one on the left. The picture has been colorized, but you get the idea.
My Aunt Hope lived in far southern Illinois in a area where people knew each other. She raised six children with my Uncle Sam and they were well known in the community. They had the house on the hill. I remember that house - big with two stories and lots of bedrooms. I can still see it now as I close my eyes.
I didn't get to go to the funeral, but my two sisters did, as well as my oldest brother. My two older siblings were born in the middle of a large group of cousins (about 9 within 5 years). They all lived in the same area of southern Illinois and all used to gather on that house on the hill. I've seen old home movies with lots of kids running around during Easter egg hunts with my aunts standing by, except my Aunt Hope who was chasing after the youngest child of the group.
On Facebook, one of my extended cousins, who also did not attend the funeral, wrote a nice memory of my aunt. She received nearly 40 comments, mostly from non-family members who remembered my Aunt Hope. It was truly touching to see the broader impact she had on the entire community.
My mother and her sisters were part of a generation that is waning. My cousins don't live in the same area - we are scattered all over the United States. Our kids didn't have that house on the hill where they all gathered. It's a bit sad,
but it's O.K. because we all have pictures, old movies and most importantly, the pictures and movies in our mind. It's important that we share those with our kids so they know where they're from even if they've never been there. I know I remember.