It's getting down to the wire when I've got to think about all the "little" gifts I need - for teachers, babysitters, mailmen, other last minute recipients. These are my favorite gifts because although I like to make them interesting, I don't necessarily have to give a lot of personal thought to them. I also like to combine my love for the deal. Specifically, I like to buy Christmas things right after Christmas for a song and wait and use them the following year. When I unwrap my Christmas decorations, I enjoy finding something new - like Christmas comes early. Last year I found these glass Santa containers on sale for $1.00 each (originally $4.99) at Target. I thought I would make cookie mix, but because of the small size, I needed to think of something else. Cranberry/Orange Snack Mix
The ingredients are pretty simple:
2 c. Corn Chex
2 c. Oat squares
2 c. Mini Pretzels
1 c. whole almonds
1/4 c. butter
1/3 c. frozen orange juice concentrate, thawed
3 Tbl packed brown sugar
1 tsp ground cinnamon
3/4 tsp ground ginger
1/4 tsp allspice
2/3 c. dried cranberries (Craisins)
Preheat oven to 250 degrees and coat a 13X9 inch baking pan with non-stick cooking spray. Mix the first four ingredients in a large bowl and set aside. In a smaller bowl melt butter and add orange juice concentrate, brown sugar and spices. Mix well and pour over the dry ingredients, stirring them to coat.
Spread the resulting mix on the baking pan and bake for 50 minutes. You will need to stir the mix every 10 minutes.
Once it's done, you add the Craisins and lay the mix out on a flat surface until it's dry. You can store it in any airtight container. As an extra bonus, your kitchen will have a wonderful smell of spiced orange and cranberry.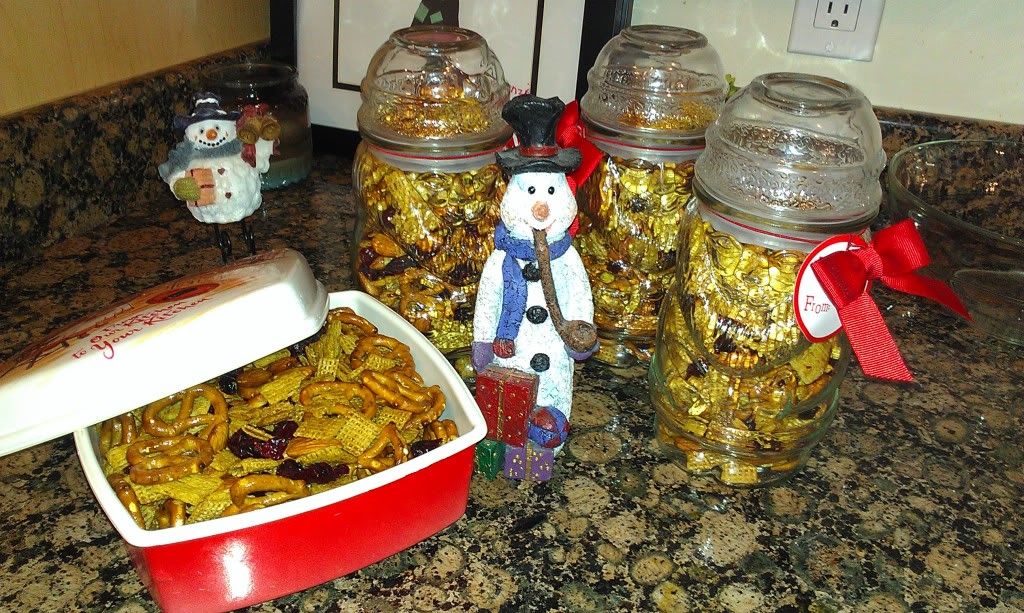 This is better than any old cookie mix :)
cindy