As the summer ends, there are things that go away. One of those things is watermelon. There are also people who are going away - high school graduates off to college and a dear friend who is off to the seminary. A week ago we had a party to celebrate our new seminarian and I made this recipe.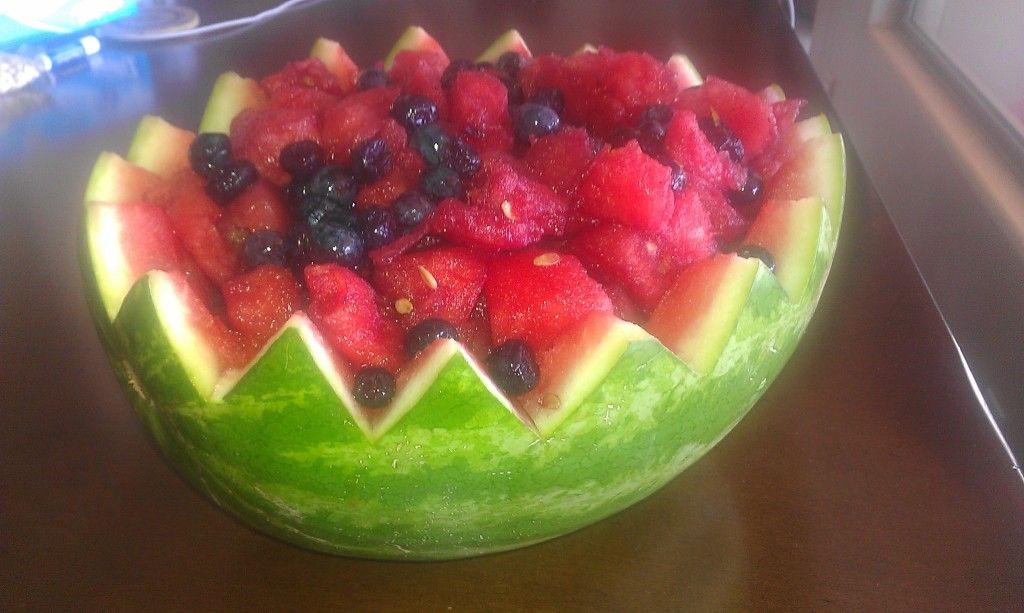 I'm calling this recipe Watermelon Blues because of how the end of summer feels and the combination of watermelon and blueberries. I was especially pleased with this presentation, but please ignore the little seeds in the watermelon.
Ingredients:
3 cups chopped watermelon
2 cups blueberries (fresh or frozen)
Zest of one lemon
4 mint leaves
2 Tbs sugar
1/4 cup boiling water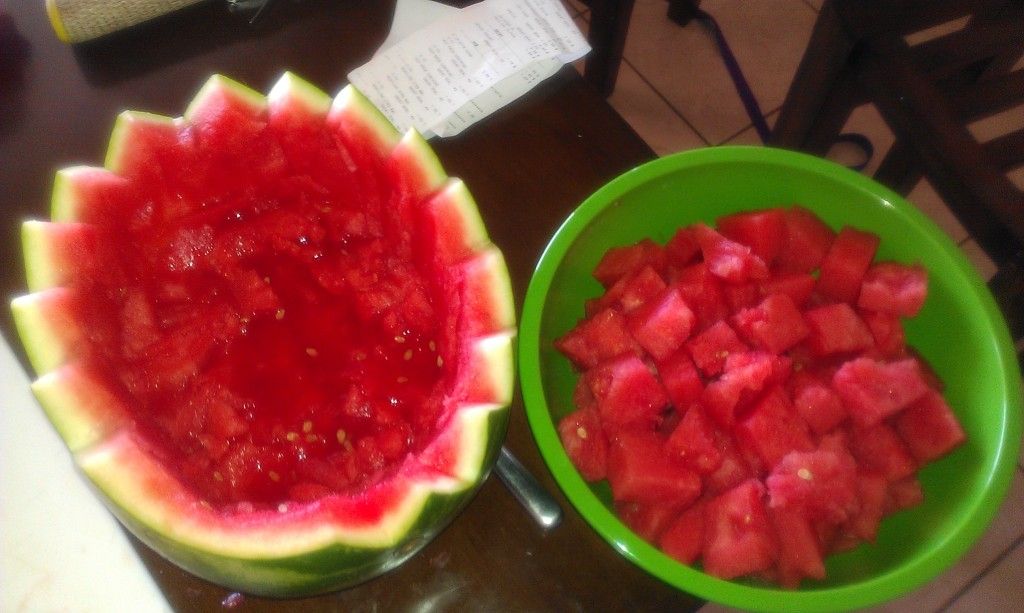 Directions:
1. Pour sugar into the hot water, stir well until sugar melts.
2. Add the mint leaves. Stir and press them a little and leave them there in the sugar water for 10 minutes.
3. Take out the mint leaves
4. Add the lemon zest to the mint/water mixture.
5. Slice the side off the watermelon and gently scoop out the watermelon so it can be cut into chunks. Remove all the watermelon so the rind forms a bowl. You can add the decorative cut if you would like.
6. In a bowl, gently combine the watermelon chunks and blueberries. (This is where frozen blueberries can be your best bet because you won't crush them when you mix with the watermelon.) Top the combination with the mint mixture.
7. Chill for at least 30 minutes. You can serve it in the bowl or back in the rind. Top with additional mint leaves as decoration.
This makes a lot, so if you don't have a big crowd, use a smaller watermelon. Notwithstanding the sugar, this is a very low calorie dish. If you have leftovers, you can keep them in the refrigerator for a few days. The mixture will turn blue as the watermelon and blueberries sit together.
Enjoy!
cindy
Don't forget to enter the giveaway for the Glitter Craft Kit. The drawing is Labor Day evening (September 3).