A couple of months ago I went to an awesome vendor show - Cool Off in Style. (We got in because it was at our
church hall
and the event coordinator invited us). The party was all about how to step up your party - wedding receptions, corporate events, birthday parties, bar or bat mitzvahs or family reunions. Even if you don't live in Arizona, these types of vendors are probably available in your area and would add a huge kick to your party!
This awesome party was hosted by
Pour Masters Bartending Service
and wow, do they know how to throw a party. They sponsor this event every year in June - just when it's really getting hot in Arizona! It's a great break for what otherwise is a long hot summer.
Matt Carr at
Creative Occasions
took a large church hall (very similar to a hotel ballroom) and turned it into a chic nightclub vibe. The lighting, the couches, the whole theme was amazing.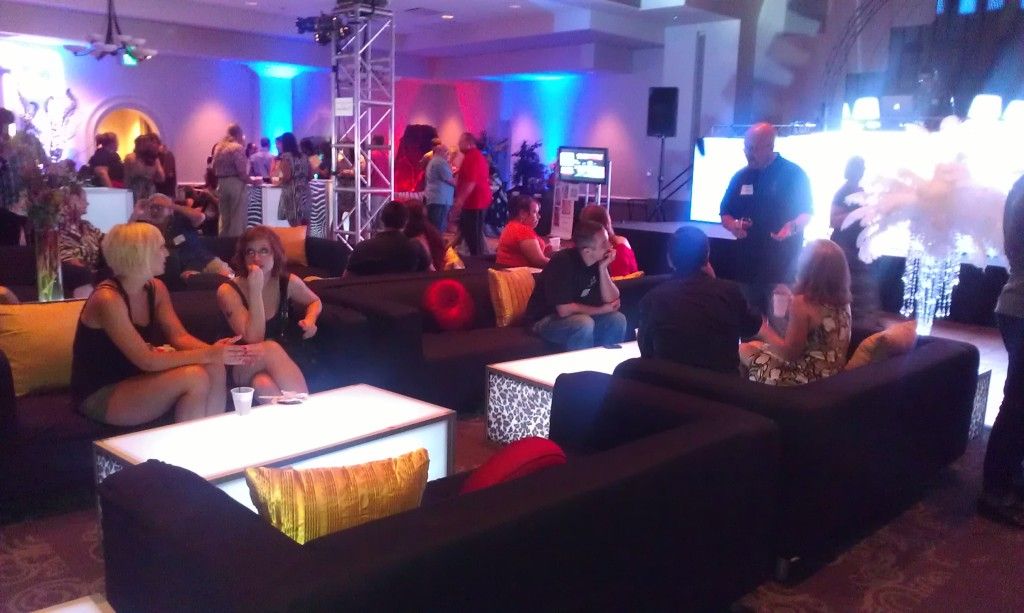 Time for some fun! We were immediately drawn to a cool (literally) ice sculpture of a dinosaur. Now these aren't your boring swans or fish - no, this was ice sculpture with a purpose!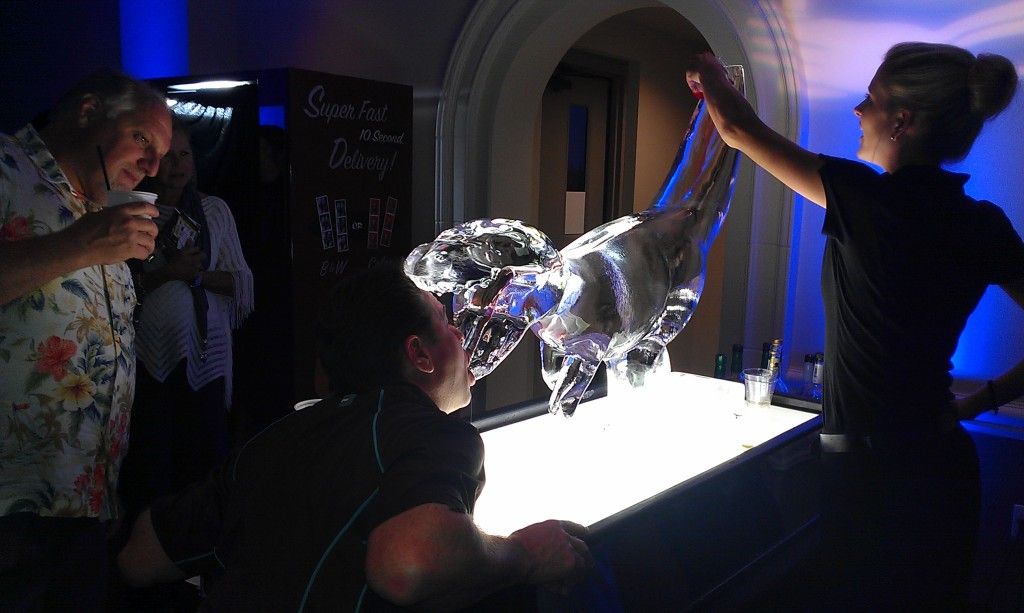 Check this out - the waitress pours a drink down the dinosaur's tail and you catch it as it comes out of his mouth! Now if that won't kick up your next party, nothing will! This critter was courtesy of Mark Armitage at
Armitageice.
We moved on next to a floor-to-ceiling screen with people standing in front of it. They looked like they were painting directly onto the screen, but actually, they were virtually writing or drawing on images of themselves.
This one is called
Pixalpaint
and this would be a huge hit at a wedding reception. If you look close at the picture above you can see that the writing comes from little "spray" paint cans. Again, these are virtual paint cans, but they trigger the color of the pixels. It really gives you the feel of graffiti. Imagine doing that on images of the happy couple! When it's all done, Pixal Paint prints the finished product for you as a photo image.
From this we moved on to another popular booth - the pictures on green screen! You know, the one where you stand in front of a green screen with props and poses and it is superimposed on the background of your choice. We took a picture home that night to the kids and told them we traveled to New York! This was all courtesy of
Green Screen AZ.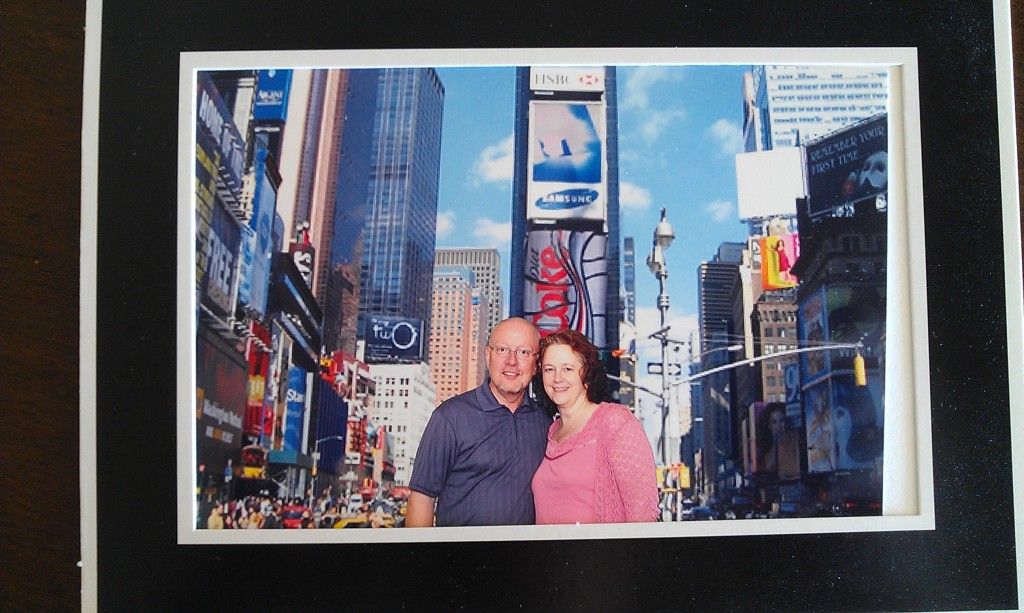 Our personal photo favorite was the old fashioned photo booth from Arizona Photobooth. For those of you too young to remember, you go into a small photo booth with as many people as you can cram in there (or in our case, with our sweetie) and take 4 to 5 pictures that come out in black & white. The neat thing is that at the end of the night, the person who rented the photo booth gets a CD with all of the pictures. This is an obvious choice for a wedding reception or bar mitzvah.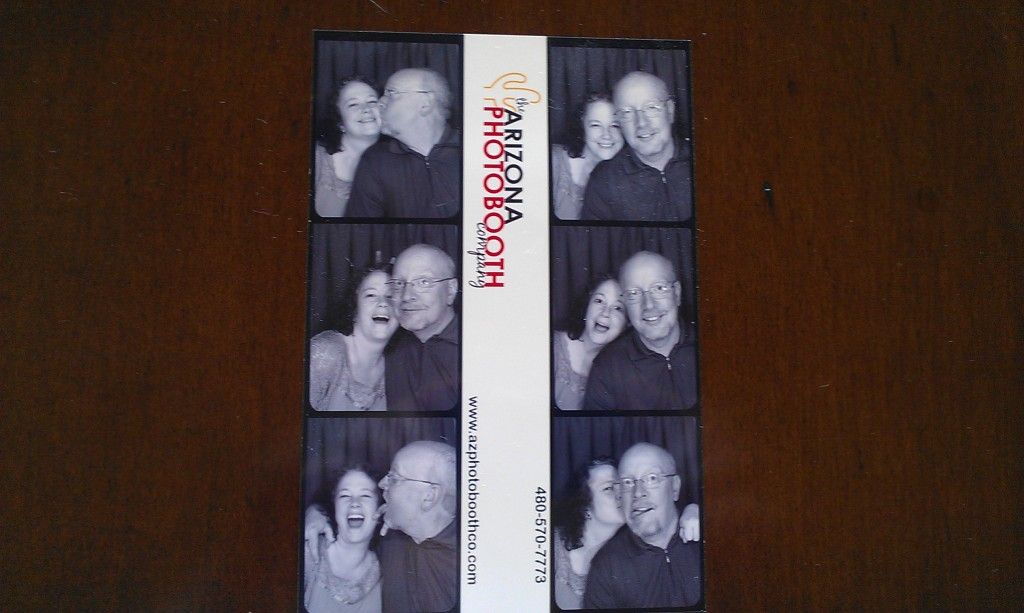 There were so many other vendors with things we never thought of, like caricatures, tattoos (henna), even people you can hire to reinforce your party theme.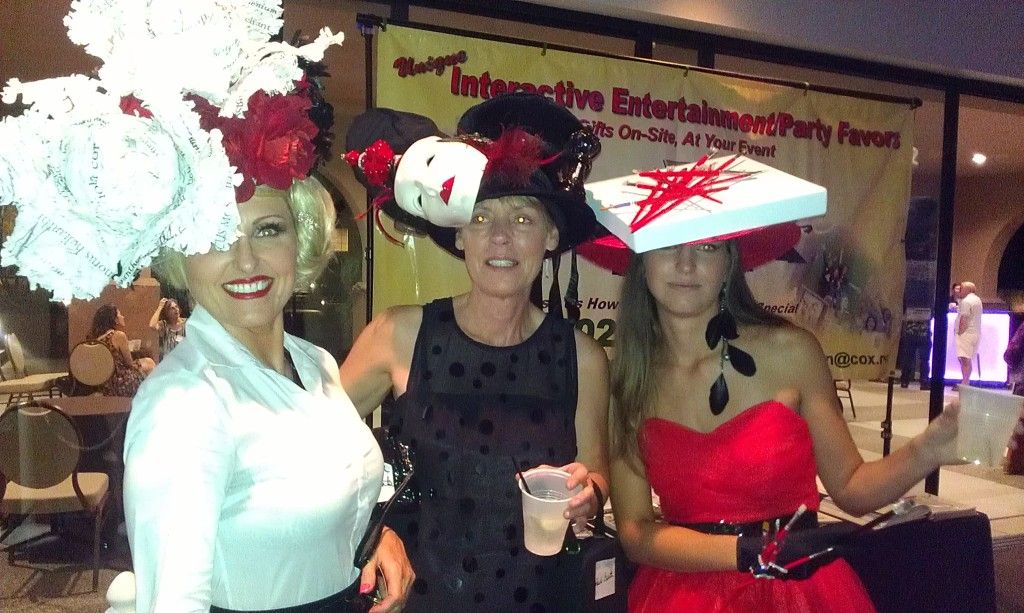 Perhaps the most unique service for your next special occasion was from Dave at
Live Event Artist of Arizona.
This service brings an artist to your event and he paints a gorgeous oil painting of your event while it is happening! I thought this must be the best "souvenir" for the party host who wants to capture the special day and remember it forever.
I wish I could go to one of these parties every week - it was so fun! If you live in Arizona and are planning an event, I guarantee these services would add a unique touch. DJs are nice and dessert tables are good, but just imagine how much your guests will remember your special event if they have something special to see or do. Even if you don't live in the Phoenix area, you should look for fun and different goods and services to kick up the party!
cindy
I did not receive any compensation or other consideration from any of these vendors. I just really liked each one and wanted to share them with you.