My relationship with Singer Confidence has hit a rough patch. The machine is chewing on thread, stretching it tight between the tension disc and the needle. I've been very patient and caring, and Confidence is responsive about 50% of the time.
This morning I was casually looking over Craig's List. OK, I'll admit, I was looking for a casual fling to take my mind off Confidence. Then I saw it, advertised at 10:00 a.m. this morning: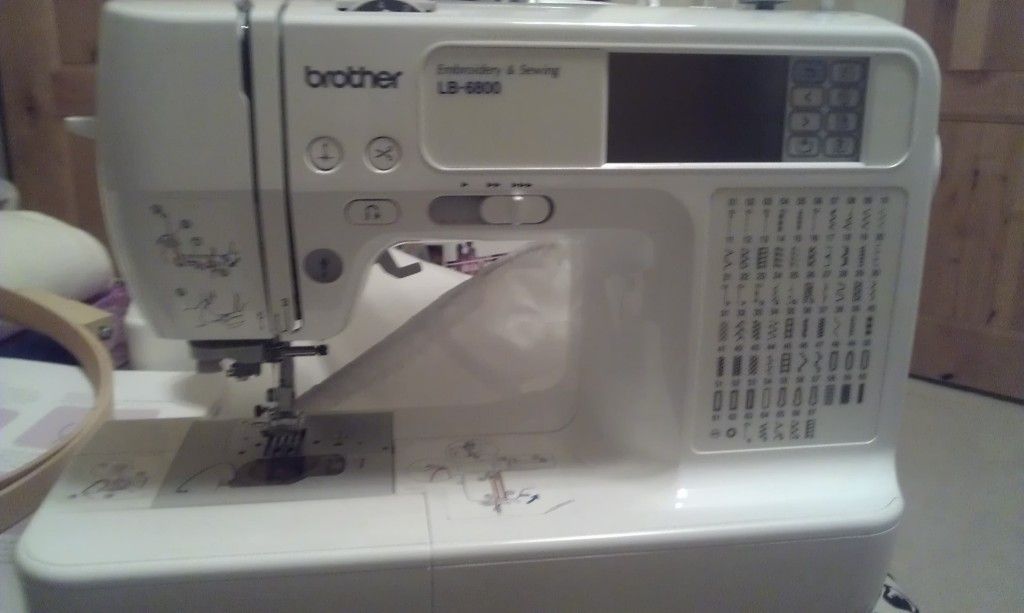 Oh Brother! It was love at first sight. Meet the Brother LB6800. He's gorgeous - sewing AND embroidering, automatic threader and cutter, LCD display, extended embroidery table, 67 built in stitches, 70 built in embroidery designs (including monograms and 5 fonts), USB cable for importing embroidery patterns directly from the computer, and the ability to sew without a foot pedal. By this point my heart was pounding.
The lovely woman who was selling it had upgraded to a far more expensive machine, but was offering him (along with lots of accessories and thread) for less than half the retail price! I jumped at the chance to have him for my own and rushed over to her house to pick him up.
This Brother has so many features, I suspect I will spend a lot of time reading the manual before I start dancing with him. I love a guy who is multi-faceted. I'm imagining all the places we can go and all the things we can do. I must disclose that my Brother does not have the Project Runway logo on the front or the rolling case, but is otherwise exactly the same.
I'm not kicking my Singer Confidence to the curb just yet. Variety can be a great thing. I also have my mom's sewing machine and my grandmother's sewing machine, circa 1932. I don't want to be a hoarder, but I might just have to hold onto them all for now.
When I started writing this post, I knew I met a remarkable guy, but now that I have seen videos of what he can do, I'm giddy and light-headed. I'm hoping I can get to know this Brother better, although I'm sure it will take some time before I can peel back all the layers.
I know I will have fun trying!
cindy