I am not Italian. However, we do have a "Soprano's Cookbook" that is pretty authentic. Most of the recipes start with "Sunday Gravy" (a reference to sauce). I made Sunday Gravy once. I won't repeat that epic cooking day, because it just isn't worth 5-6 hours to make an Italian meal. Last Sunday I decided to "wing it" and I'm pretty happy with the results.
Here's how I did it:
1 lb of sweet Italian sausage (ground)
1 lb of ground beef
2 jars of Emeril's Chunky Marinara
1 16 oz can diced tomatos
1 can tomato paste
seasoned croutons, crushed into fine breadcrumbs
2 cloves garlic
basil, red wine, oregano to taste
1 - 1 1/2 pound rigatoni
olive oil
1/2 pound Reggiano parmesan cheese
1/2 pound Pecorino Romano cheese
(Based on the ingredient list you can see I cook a little on the fly.)
Start with the meat. Combine the sausage (make sure it's ground) and the ground beef. Add in the breadcrumbs - just like meatloaf. You can also add an egg if you like your meatballs to really stick together. Mix together and roll into little meatballs (about 1" in diameter). Put some olive oil into a 3 quart pot, just enough to thinly cover the bottom. Brown the meatballs. Remove the meatballs and set aside. Drain the olive oil.
Combine sauce, tomatoes, paste, garlic, wine, basil and oregano in the same pot. This is where I seriously cheated on Sunday Gravy. You need to be a little creative here and work with the ingredients until you get to the taste you want. You can also add a little cheese to taste. Let your "gravy" simmer for a while and then add the meatballs. Shred 1-2 cups of each cheese.
Follow the directions on the box for the pasta so cook it al dente (seriously, you don't think I make my own pasta, do you?) Grease a baking dish with a little olive oil. When your pasta is done, drain it and immediately put half of it in the baking pan. Pour about 1/2 of the gravy over it and add about half of the shredded cheeses. Then repeat another layer, finishing with lots of cheese on top.
Cover with tin foil and bake for 45 minutes at 325 degrees. Remove foil and cook another 12-15 minutes. Remove and let it cool for at least 10 minutes.
Serves 8 or have lots of leftovers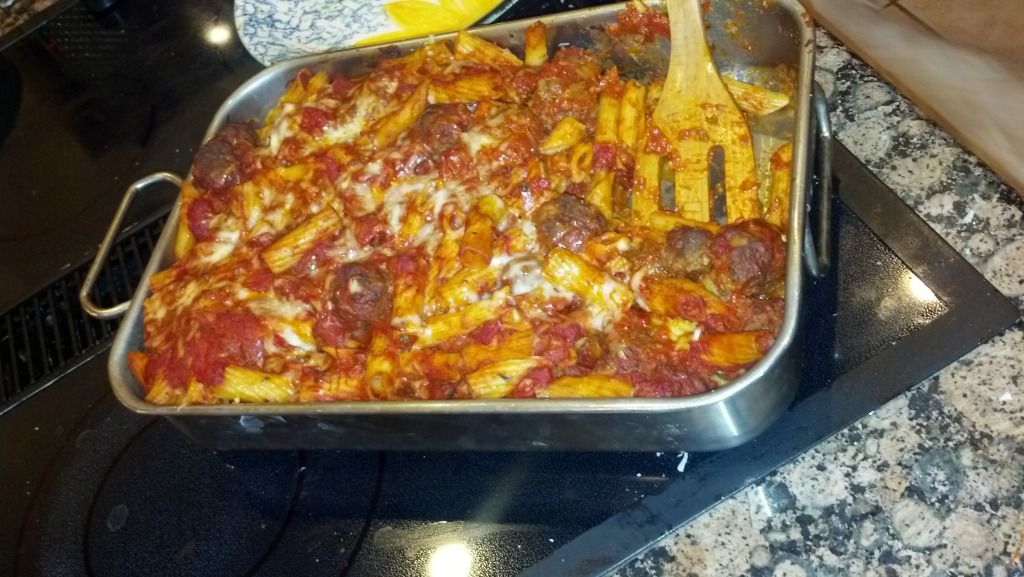 cindy