I'm a wimp about quilting. It's very intimidating to me. I love rag quilts, probably because no one in my family made them, so I couldn't be too intimidated. My grandmother made many quilts, even years after a major stroke, and all by hand. My sister made her first quilt less than 7 years ago, but as usual she started big - I mean really big. She made these huge colorful banners for her church. Yeah, that big thing with the ribbons.
This one too:
So you can see why I might be a bit intimidated. I finally overcame my fear, bought a pattern and some bundled fat quarters and made my first quilt:
I love the colors. The blocks are multiple sizes and didn't line up perfectly, but you have to look close to see it.
I can't remember the pattern, but I do remember I purchased it at JoAnns. I followed the directions for the binding and I'm pretty proud of it.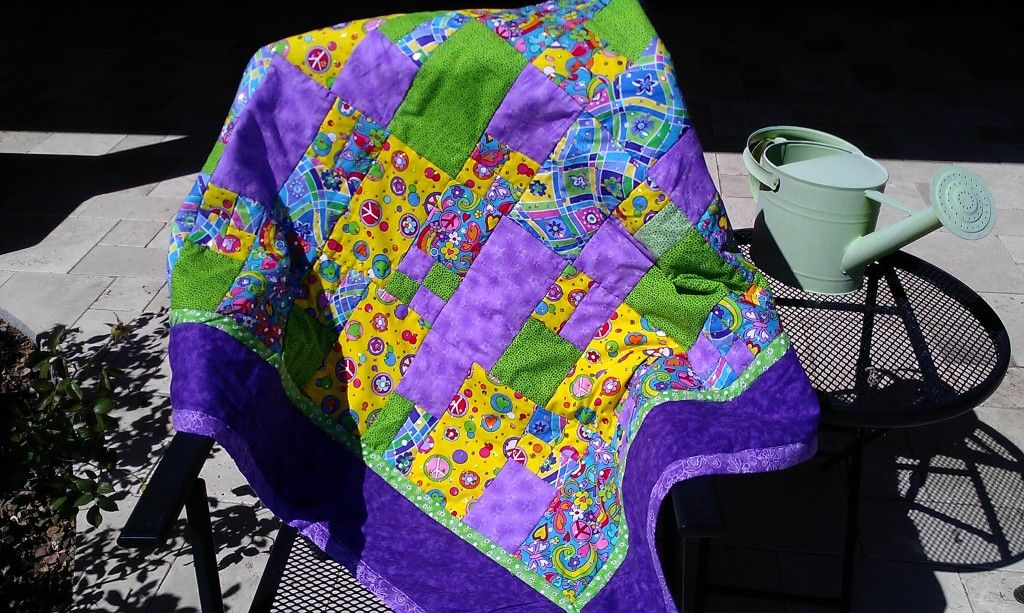 I was a weenie with the actual quilting. I "stitched in the ditch". That means I followed the seams of the blocks on the quilt top to sew through the quilt sandwich (quilt top, batting and quilt back).
I must say I'm pretty proud of it. I made it a while back and today when I look at it I'm surprised I made it all by myself. I pretended to be my sister and jumped in boldly - go big or go home. (O.K., my quilt isn't big, but it's a metaphor for doing something you've never done before.) Next time I'm going to try "real" quilting and stay out of the ditch.
cindy